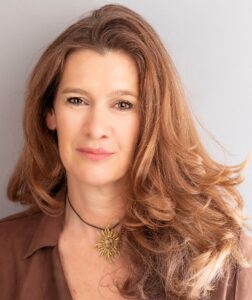 As a holistic practitioner and trainer of massage therapists Caroline was very aware of the many benefits of both giving and receiving massage. Curious to learn how massaging babies could play a role in maintaining health and wellbeing as well as preventing many issues she had experienced not only for herself but with clients and students, she attended the IAIM training with Sylvie Hetu in London in 1997.
During the training, when she saw for the first time a mother massaging her baby, it became very clear to Caroline that this ancient art was offering more than just the physical therapeutic effects of massage. She was struck by what infant massage is in its essence; a beautiful expression of unconditional love.
Realising that the mother-child relationship and the quality of its connection is a foundational piece in developing our capacity to give and receive love, she immediately began running several classes a week in her healing studio at the bottom of her garden.  Feeling inspired by parent's feedback along with a deep sense of the potential gifts in sharing the IAIM philosophy, Caroline immersed herself in the world of infant massage and the UK Chapter; she was Regional Representative for Surrey and Educational Co-ordinator.
During the next 7 years her appreciation deepened for the IAIM seeing it as a force for good on the planet by contributing to world peace. Consequently, she felt a strong inner pull to get the message out further and embarked on the 2-year IAIM trainer process. Since 2007 she has trained more than a thousand infant massage instructors. She has delivered the training not only throughout the UK but also in Sydney, Australia and Auckland, New Zealand.
Phone: 01784 256 478