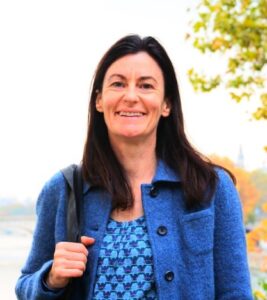 In 1997 Deborah trained as a massage and hydrotherapist with Educating hands School of Massage, Florida USA. During her time there she discovered the Touch Research Institute, University of Miami school of Medicine and became a volunteer massage therapist. During this time Deborah was introduced to the International Association of Infant Massage and her journey began.
In 2001 Deborah attended an IAIM training in London with Mia Elmsater from Sweden. The training was so inspirational she couldn't wait to start spreading the word about the benefits of infant massage through talks, marketing presentations and volunteering her time locally. Deborah's role as a certified infant massage instructor included working with teen parents, mothers with post-natal depression and dads baby massage classes as well as children with special needs. This was a wonderful opportunity to support parents and primary caregivers, by helping them to lovingly and respectfully communicate with their babies through nurturing touch. During 2003 Deborah became Sussex Regional Representative and has also volunteered her time as Educational Coordinator and Vice President for IAIM UK Chapter. This led her to follow her passion and became a trainer with IAIM in 2012.
Deborah truly enjoys seeing the benefits unfold during the 5 week parent & baby sessions, as well as meeting instructors across the UK and trainers from all around the world. This is what makes her work as a trainer all the more interesting, exciting and a joy to be part of the IAIM. With thanks to Vimala McClure, the founder of the International Association of Infant Massage for giving this wonderful gift of sharing the importance of nurturing touch.
Phone: 07811 864255
Email: hovebabymassage@gmail.com
Website: www.babymassage-uk.com