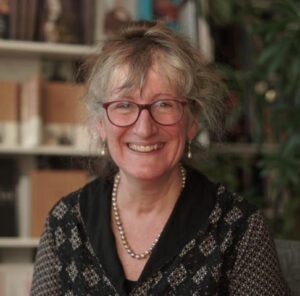 Sylvie Hétu is the mother of three grown-up children. She has degree in Education from Montréal University (and is a qualified Steiner-teacher). She is an international lecturer on parenting and education. Sylvie has been working with the International Association of Infant Massage since 1983 teaching parents of various backgrounds including multi-cultural groups and vulnerable families. She has been pioneering infant massage in Canada and became an International Trainer with IAIM in 1989. Sylvie has trained 6000 IAIM instructors in more than 20 countries on the five continents, giving her vast multicultural experiences and many stories to share.
She was also the international president of the IAIM (1992–2004), has been a member of the IAIM International Education Committee for 18 years and is currently on the IAIM international board as the IAIM Chapter Development Coordinator.
Sylvie is also the co-founder of the Massage in Schools Programme (2000), that is now in over 40 countries, along with her Swedish colleague Mia Elmsäter. Sylvie is the author of The Song of the Child (2004), co-author of Touch in Schools: a Revolutionary Strategy to Replace Bullying by Respect and to Reduce Violence (2010), and has a published chapter (The Myth of Early Stimulation for Babies) in the book Too Much too Soon (2011), Facilitating IAIM classes (2015), and her latest book about death On Meurt et puis Après was published in French 2017 and in process of being translated in English. She is passionate about the idea of marrying ancient traditions with modern scientific and humanistic knowledge, which the practice of infant massage as fostered by IAIM perfectly embodies.
Sylvie is being qualified as "truly inspirational" by people who reads her or attends her lectures and trainings. She loves nature, handwork and knits in airplanes.